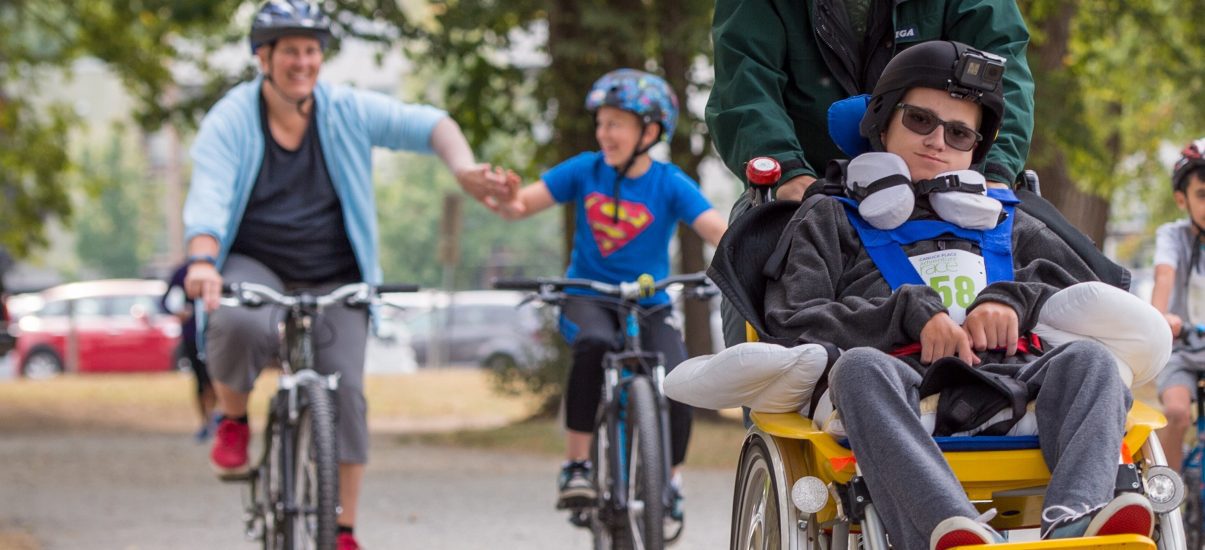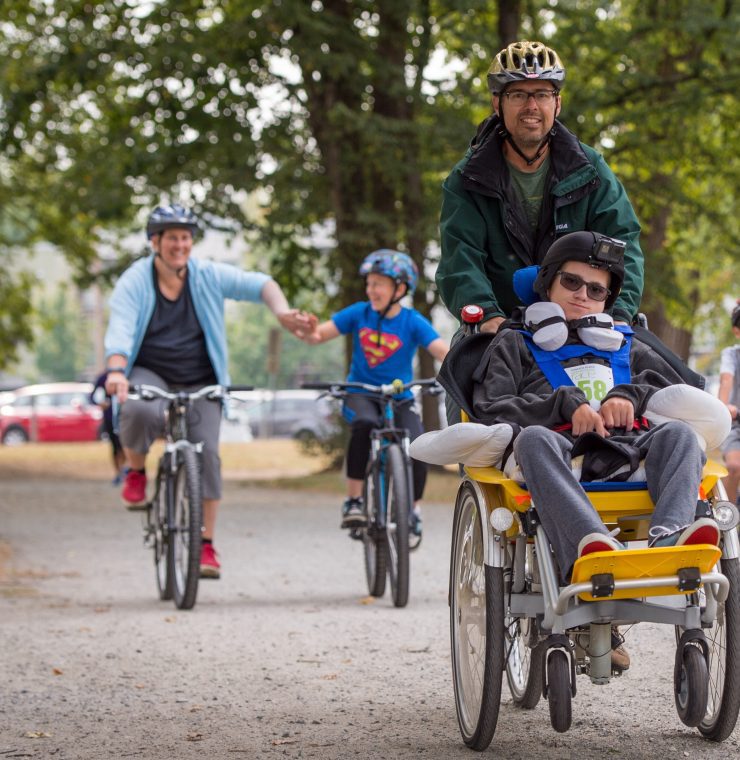 Recreation therapy and the use of adaptive equipment
February recognizes and celebrates recreation therapy! This is an important part of care for children and families at Canuck Place—with the goal of facilitating everyday experiences that provide connection, fun, and memories.
Everyone deserves recreation. It is fundamentally designed to get people out and to connect with their community.
Canuck Place provides care to children and families with varying abilities, and our team of highly skilled recreation therapists live by a crucial motto—activities can be adapted for children, but children will never be adapted for activities.
We spoke to the three incredible recreation therapists, Gillian Lagambina, Amy Wightman, and Laura Fielding who run the recreation therapy program at Canuck Place to learn more about what recreation therapy looks like at Canuck Place and why adaptive therapy and equipment is such a fundamental part of the work they do.
Thank you to Gillian, Amy, and Laura for sharing their knowledge, expertise, and passion. Read more below!
What is recreation therapy? Why is recreation therapy an important part of the Canuck Place program? [Gillian]
Recreation therapy at Canuck Place is simple moments of joy and comfort, making dreams and wishes come true, spending quality time together as a family, enjoying new activities and experiences, being understood and letting one's abilities and strengths shine, creating memories, normalcy, distraction, being a kid, friendships, facing challenges and taking risk, achieving goals whether small or big and living life to the fullest.
Our children and families live with uncertainty, daily challenges, and many stressors. Providing a safe space and opportunities to experience positive recreation, loving relationships and a sense of community can be positive and improve their health and well-being both emotionally and physically.  We let the child and family guide us and we are just there to support, navigate, encourage, and celebrate.
How does one become a recreation therapist? Are there specific requirements for working as a recreation therapist in a pediatric palliative setting? [Amy]
If you want to become a Recreation Therapist, you should be passionate about working with people! In the pediatric palliative care setting—this would be inclusive of working with children and their families. Creativity, collaboration, and the ability to explore child / family driven goals are fundamental when working with this population (along with extensive pediatric palliative care training). Recreation Therapists use recreation and leisure as modalities to support purposeful and meaningful programs that are based on individual strengths and values. A Recreation Therapist requires high school education, a bachelor's degree (in Therapeutic Recreation) and often, a nationally recognized certification.
What does a typical week of recreation therapy at Canuck Place look like? Can you speak to some of the various programs, outings, activities that take place? [Gillian]
Our days/weeks are never the same.  Everything we do is all based on the needs and interest of children and families we are supporting at both hospices and in the community. Ranges from facilitating an outing into the community with children and families, memory making with a child who is receiving end of life care, coordinating special wishes and celebrations, planning events such as the annual Family BBQ, Winter Family Festival, and the Summer in the City outreach program, collaborating with our team daily to ensure we are meeting the needs, wishes and goals of the child and their family, running camps for children and their siblings, quiet conversations with parents, making a mess in the arts and crafts room, hide n seek or a scavenger hunt in the garden, to arranging special guests to visit, and much more.
At Canuck Place, the recreation therapy team always adapt activities for children with varying mobility, but never the child. Can you explain what this means? [Amy]
We work with children and youth who have a range of abilities. We will always meet a child or youth wherever they are at, in their different abilities—not changing anything about them, or what they are able to do, but rather, we will adapt our activity or program so there will not be any barriers to their participation. We strive to think outside the box, utilize adapted equipment and ensure that kids and families know that when it comes to recreation and leisure—anything is possible!
What does adaptive equipment look like? What happens in a situation where adaptive equipment may not be readily available? [Laura]
Adaptive equipment can be any tool, device, materials or machines that are used to help with successful participation in recreation and leisure activities. There are lots of adaptive equipment pieces out there and the super cool thing is that technology is continually changing so there are always new things being invented, created, and used. We have some really creative parents and kids on our program who have made their own adaptive pieces specific to their child and their abilities—we're always learning from our children and families!
Gillian, Amy, and I always like to show up prepared for any situation—duct tape is a recreation therapist's staple for sure! We love to think outside the box and consider what's readily available in the immediate environment. One year we traveled to Bowen Island and we were going to visit the "World's Smallest Candy Shop"—the only thing was there was no ramp to get into the store. Not wanting kids who use wheelchairs to be left out, I looked around and saw some folks at a construction site—I ran over and asked if they could cut me a few 2x4s and used those wood pieces to fashion a ramp.
Can you recall a time where this has happened or a piece of equipment has failed and you've had to get creative? This team never gives up! [Laura]
Equipment failure is one thing, inaccessibility and misinformation are actually the greater barriers. One of our favorite things is advocacy and showing others that EVERY activity can be made accessible—you just need the problem solving skills and willingness of the participants. When folks tell us that "it's not possible for a child who uses a wheelchair to do something"—that's when we dig in our heels and double down. If you have a look at the picture of Katie on my back—we're up about 75 feet in the treetop canopy in the Capilano Suspension Bridge park on the North Shore. Maybe Katie's wheelchair wasn't going to go up there but Katie sure as heck was! We took another, much bigger child, to that same park a few weeks later and used a completely different transportation device to make sure he could see all the sites too.
Do each of you have a favourite or core memory from a time you were able to provide a child with an experience they wouldn't have been able to have without adaptive equipment? 
amy
Yes! A memory that stands out for me was from 2017—I had the privilege of working alongside one of our families whose daughter (on our program) wanted to go skiing. This young girl used a wheelchair for mobility and skiing was not something their family had experienced before. Our team worked with an Adaptive Ski and Ride Program and we were able to successfully have this young girl utilize a sit-ski (which is an adapted piece of equipment). Skiing alongside her (and her family) down the mountain was by far one of my greatest memories! I feel honored to have been able to provide an opportunity this family had not explored before.
gillian
There are so many incredible memories having worked here for 15 years. Hard to pick a favorite or core memory but honestly every day there is a little bit of magic that happens. From simple adaptations like working 'hand over hand' painting an artistic creation, to using a 'sling' to safely transfer a child from their wheelchair to the adapted swing at the local park, to baking cookies and hooking up the hand mixer to an 'adaptive switch' so a child who may not be able to physically hold a hand mixer can operate the mixer and be part of the group activity. The recreation team is very fortunate to have support from many incredible community partners who are open and willing to adapt their activity, think outside of the box and get creative so 'all' children can participate regardless of ability. Just last year we were able to take children parasailing, stand up paddle boarding, dragon boating, on a float plane. There is nothing that our children cannot do. That old saying, if there is a will, there is a way and that is RECREATION THERAPY at Canuck Place.
laura
There are so many! You know—it's not about one experience in particular for me—it's the overarching feeling of sharing in the joy and happiness of all these kids' successes. It's seeing children experience their "firsts"—first time on a swing, first time in a boat, first time putting their toes in the sand. It's seeing families doing things together that they never thought possible. We're just providing the tools and the know how—the children and families are the ones who take the courageous steps to trust us and give these things a try.
Watch the below video to see the team in action this past summer in Kelowna for the Summer in the City program.