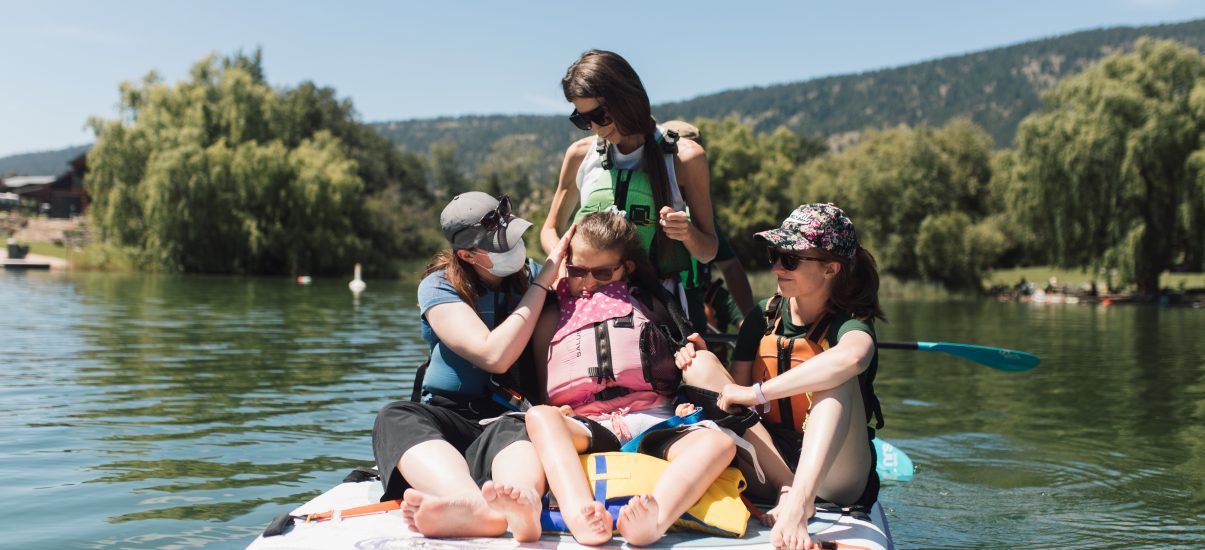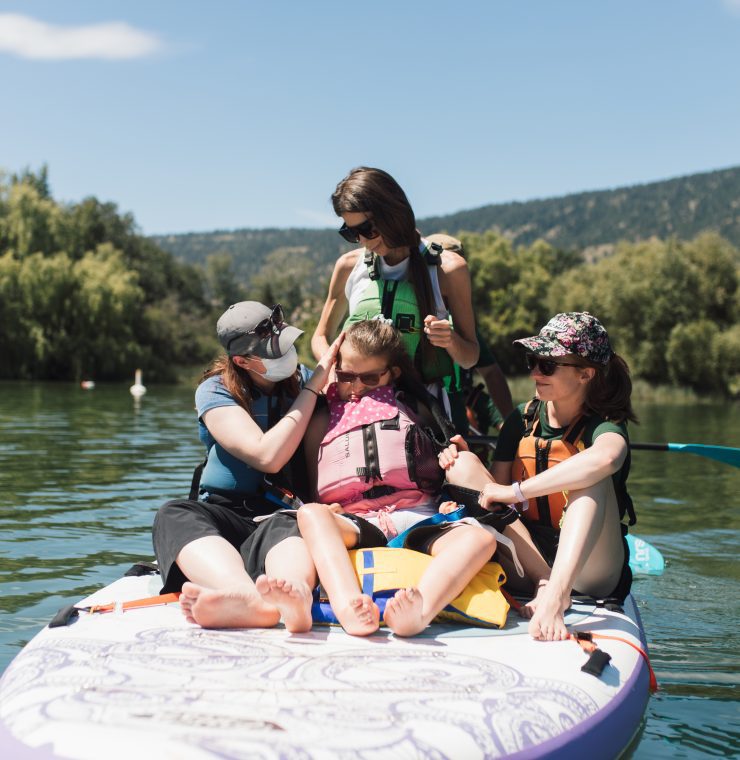 Canuck Place recreation therapy helps kids just be kids
Canuck Place family, the Skibingtons, navigate many obstacles in their day-to-day lives, and recreation is just one of the daily activities that requires more planning.
Everyone deserves recreation.It is fundamentally designed to get people out and to connect with their community.
Chris and his wife Tyra were first introduced to Canuck Place early on in their daughter Darby's life. Darby was born with a rare chromosomal abnormality, diagnosed as Pallister Killian Syndrome. Darby is now almost 16-years-old, and her cognition is that of a newborn. She requires 24/7 care. She is deaf, blind, and non-verbal; however, she communicates with smiles, laughs, cries, and other noises— 'Darbanese' as Chris and Tyra lovingly explain.
Recreation therapy is a vital part of Canuck Place care and allows families, like the Skibingtons, to live in the moment and celebrate the everyday experiences of being a child. Canuck Place recreation therapists, supported by family and peer volunteers, facilitate a variety of activities throughout the year, in both hospice locations and in cities across the province. Community activities include outings in specially-equipped vehicles, annual provincial activity camps for the entire family, and a summer and winter family festival. In 2021-22 alone, there were 546 recreation therapy sessions.
Canuck Place Recreation Therapist, Amy Wightman, explains that recreation therapy aims to create moments, meaning, and memories.
"We aim to level the playing field and ensure equality across the board, no matter your age or ability," says Amy. "Our job as recreation therapists is to create activities and programs for families to participate in with their children without having to worry about the risk factors, cost, or if their child will be physically able to participate. We do the ground work and planning so children and families can just enjoy, engage, and have fun!"
The benefits of recreation therapy extend beyond simply enjoying time together through shared experiences. It enhances a family's quality of life, provides fun challenges, and helps them create lasting memories.
Canuck Place's annual Summer in the City recreation therapy program is currently underway, which includes exciting adventures for children and families on program in Kelowna, Victoria, and the Lower Mainland. These activities allow families to be tourists in their own backyards while connecting with other Canuck Place families outside the hospice. All while adhering to the recreation therapy mantra: 'adapt the activity, not the child.'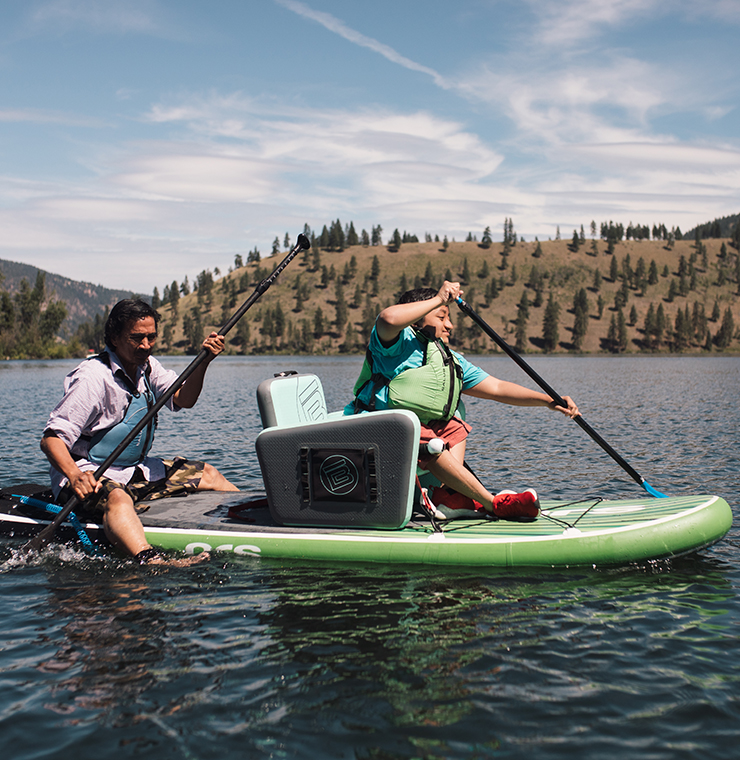 "We meet children and families wherever they are at," says Amy." "We work with a population of children with different, varying abilities; however, that will never stop our team from getting people involved and taking part in recreation and leisure."
This year, Canuck Place has exciting activities planned for families across the province. Some highlights include visiting Thunderbird Show Park, a premier equestrian facility show jumping event; parasailing over Lake Okanagan; movie nights; adapted kayaking; dragon boating; and virtual cooking classes with Master Chef Canada, to name a few.
Recreation therapy programs like Summer in the City are not only for children or families currently on program—bereaved families are also invited to join.
The Ng family's son Matthew was diagnosed with Trisomy 18, an incurable genetic disorder, and passed away shortly after birth at Canuck Place. This summer Matthew's parents and siblings are attending numerous Summer in the City events as a family, allowing them the opportunity to come together and remember Matthew.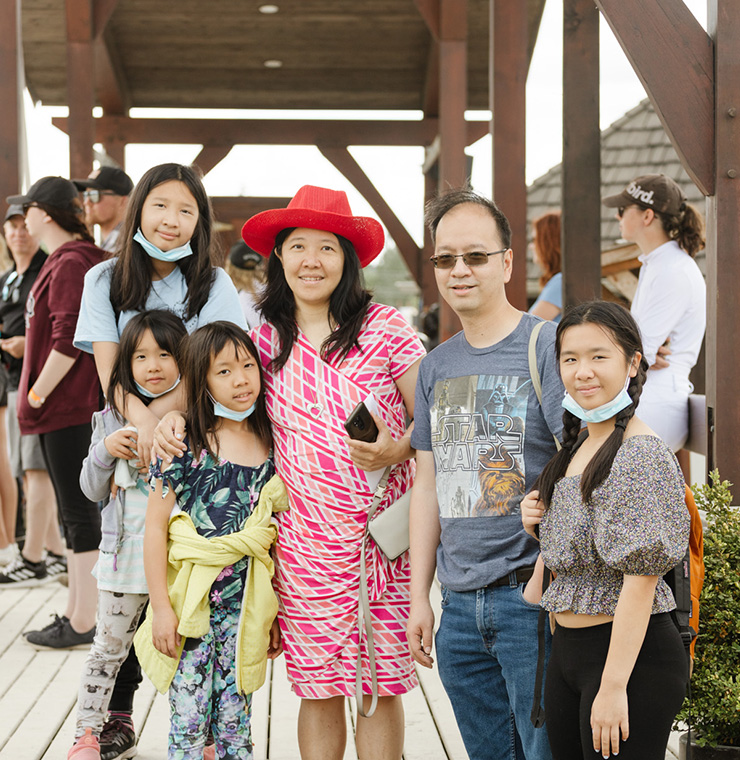 "My favourite part about this program is that my children are able to meet kids with special needs and appreciate their own lives," says Matthew's mom Maggie. "They can also connect with kids who have gone through similar experiences in their lives."
Participating in recreation therapy activities and events is just one way Canuck Place families can have a sense of normalcy in their lives. One way they can connect and enjoy their time as a family.
"Medically fragile families navigate so much, and sometimes the fun stuff gets put aside," says Chris Skibington. "We need to continue to remind families that recreation is for everyone, no matter the challenges presented. We also need advocates who have the energy and passion to make recreation more accessible and available."
Through cherished memories and shared experiences, Canuck Place's recreation therapy program empowers children and families, like the Skibington's and the Ng's, to build precious memories together, and celebrate life. A caring of community of donors makes it possible. You can help families make lasting memories.
A version of this story was published in The Vancouver Sun on July 23 and Miss 604 on July 29. 
---
Canuck Place is full of gratitude for the generous support from Central Okanagan Foundation, who fully funded the 2022 Summer in the City Program-Kelowna. Thank you for helping support Canuck Place kids and families make lasting memories!