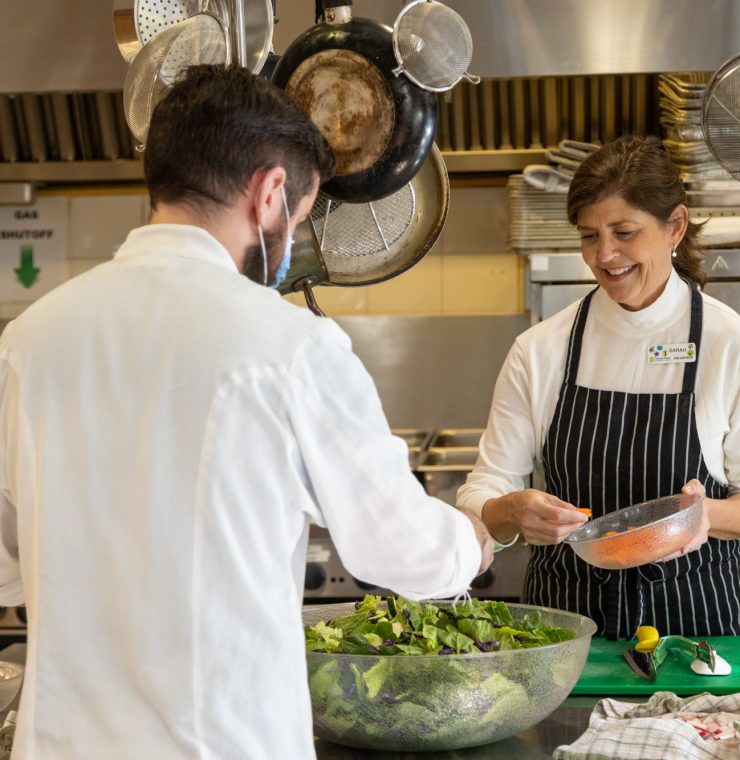 Comfort care provided with the help of volunteers
At Canuck Place Children's Hospice, the kitchen is the heart of the hospice. A place where comfort is found through a cup of tea and a plate of freshly baked cookies.
Canuck Place is BC and the Yukon's only pediatric palliative care provider, caring for over 830 children with life-threatening illnesses and the families who love them.
We take an interdisciplinary approach to pediatric palliative care—comfort care that includes the whole family through pain and symptom management, respite care, recreation therapy, art and education, music therapy, counselling and bereavement, and end-of-life care.
At Canuck Place, families are offered a choice for the place of care—a choice to stay at home, in the hospital, or at the hospice, in either Vancouver or Abbotsford.
Often considered a home away from home, our hospices offer the comforts of home so parents can focus on just being parents—loving their child fiercely with the time they have left.
For Canuck Place families, comfort care isn't just found through clinical care, but extends into all aspects of our program. Walking through the threshold of our hospices, families can feel warmth and nourishment, often emulating from the kitchen, where home-cooked meals, freshly-baked cookies, and comforting cups of coffee and tea are readily available.
To our children and families, the fresh food we prepare daily in our kitchen not only serves as nourishment for the body but is also comfort for the soul. Meals are lovingly prepared with the knowledge that they are providing sustenance during times of uncertainty, and warmth amidst weariness and despair.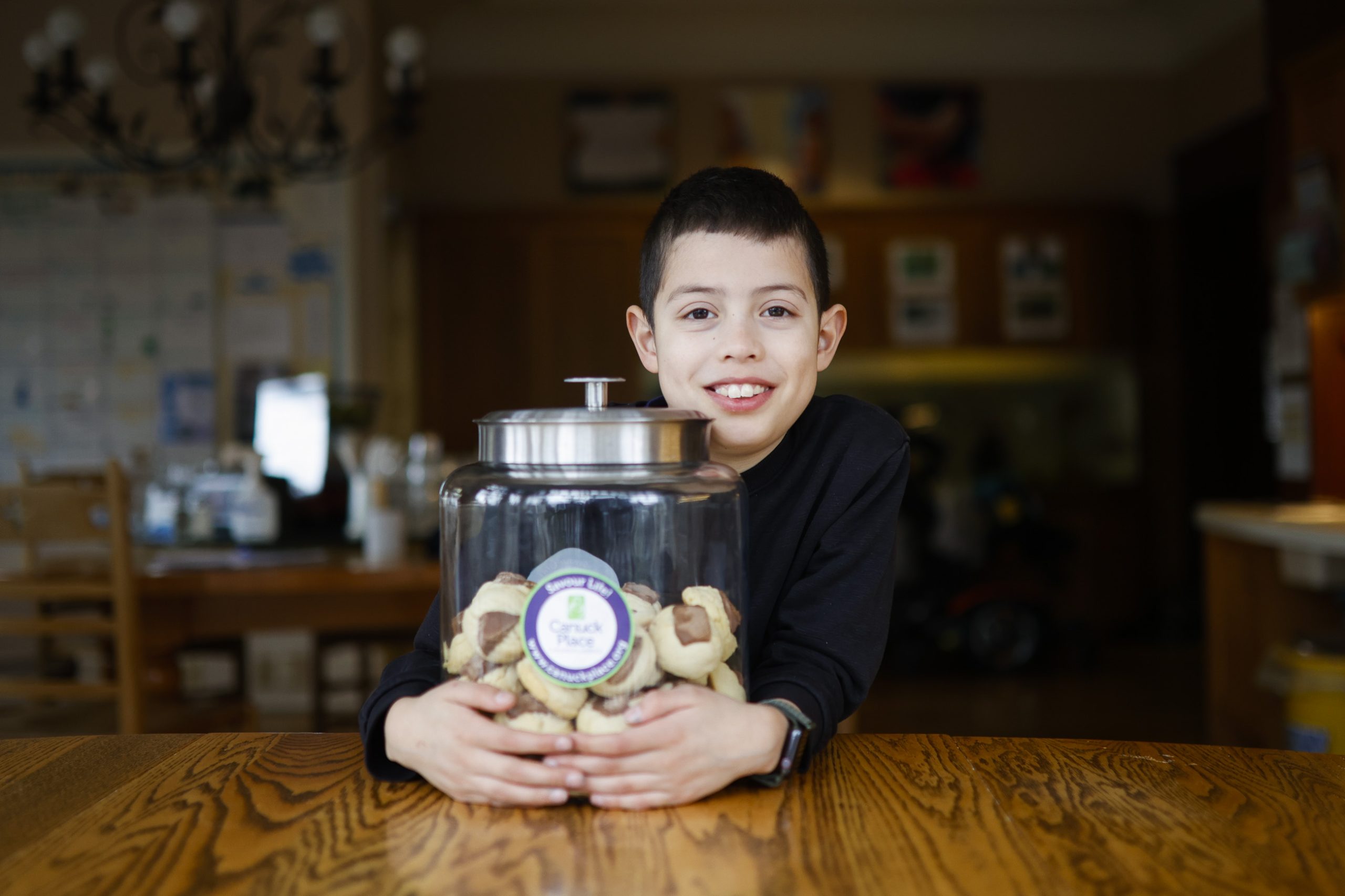 While we have a dedicated kitchen staff who ensure each family staying in our hospices receives all the comforts of home, we also are lucky to have devoted volunteers who play a huge part in creating and maintaining a warm and welcoming atmosphere.
"Our work is so much easier with the help and comradery of the kitchen volunteers," says Dawn Clarke, Food Services Manager. "There is a lot of joy and laughter that happens when working in the Canuck Place Food Services Department."
Canuck Place Cook, Kirk Bueckert also shares "with the support of our kitchen volunteers, we have more time in the day to provide for families and staff. My favorite thing about working with a kitchen volunteer is having someone to share the broken cookies with."
Sarah Ho is a Canuck Place mom and a kitchen volunteer, supporting kitchen staff by assisting with baking, meal preparation, and cleanliness of our kitchen and dining areas.
"Sharing time in the kitchen provides me with an incredible sense of both belonging and giving back," Sarah explains.
"Each and every shift with the amazing staff reminds me of the deep connection there is supporting children and families in a way like no other. Providing nourishment, love, and unconditional support is what it's all about."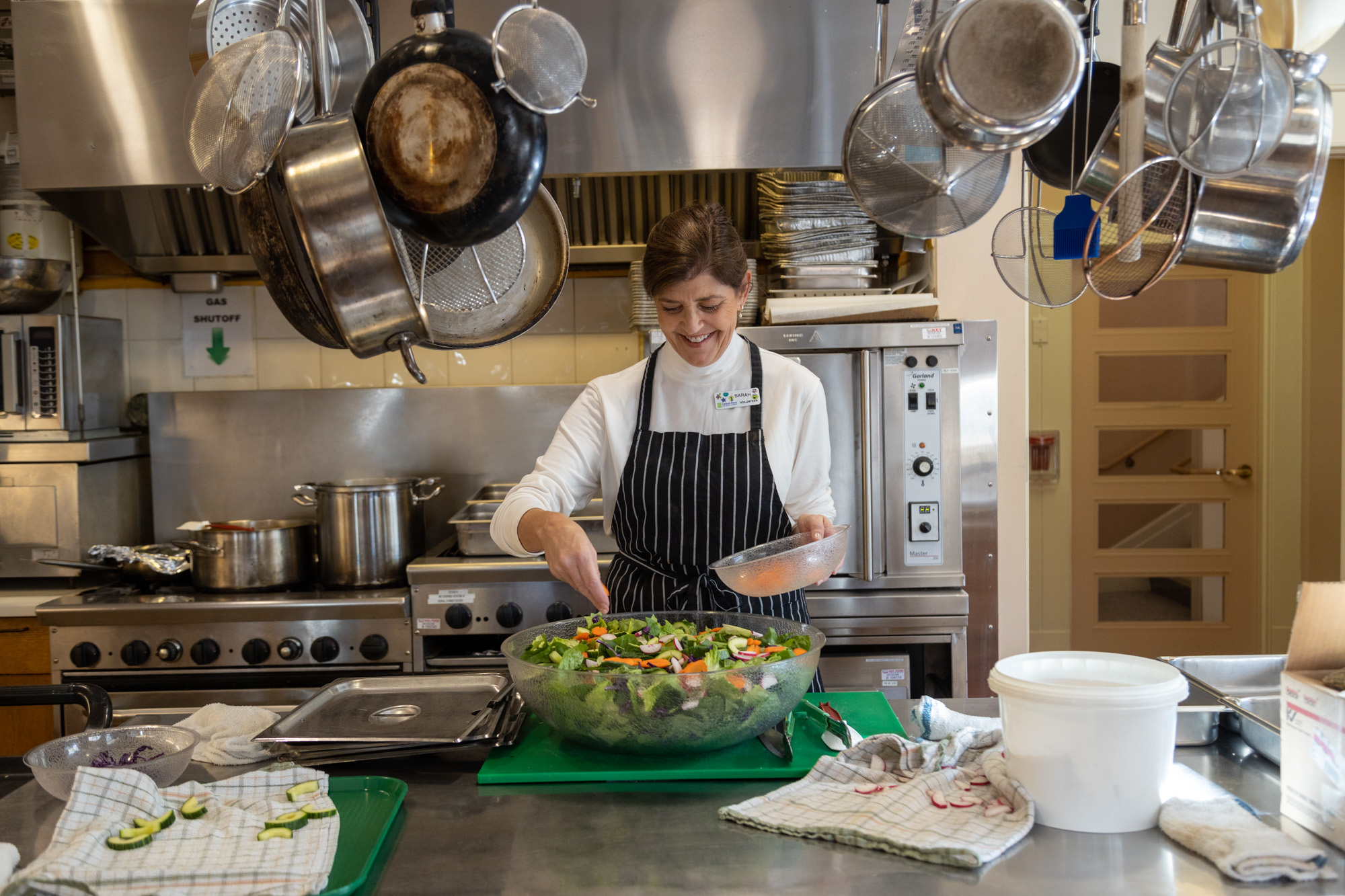 Sarah's connection to Canuck Place is deep-rooted. Her relationship with Dawn Clarke, Food Services Manager and Roxy Barbieri, Canuck Place Cook goes back 15 years when Sarah's family was in desperate need of comfort and support when her son Mitchell was on Canuck Place's program. "Roxy and Dawn's hearts run deep and they make me feel safe and welcome."
This sense of comfort and compassion extends beyond the walls of the hospice and affects the lives of not only our families but our volunteers.
Debra Wolinsky has been volunteering at Canuck Place for nine years and says her experience has brought both humility and joy.
"People who don't know Canuck Place often ask me how I can volunteer given the nature of the organization or wonder if it's a depressing place in which to spend time," Debra explains.
"I feel blessed to contribute my time to the children and families. Yes, of course, some children die, but it's also a place of compassion and joy. I love seeing children doing crafts or preparing cookie dough, or a mom or dad grabbing a few cookies and tea before settling into the living room for some soul time."
Over the past year, we've seen a 24% increase in family members receiving respite care in hospice. When families come in for respite, they are given rest, renewal, and support—an opportunity to make the most of their time together. That also means sharing meals—breakfast, lunch, and dinner seven days a week. Canuck Place serves over 23,400 meals a year! And we wouldn't be able to do this without our volunteers.
"The two big loves in my life are helping children and making food," says kitchen volunteer Carole Dedhar.
"The gratitude and many thanks I get for being side-by-side with the amazing Canuck Place chefs warms my heart immensely."
If you're looking to contribute your time and help support the exceptional care provided at Canuck Place, learn more about our volunteer roles and apply to be a volunteer today.
---
A version of this story appeared in The Vancouver Sun on April 17, 2023.