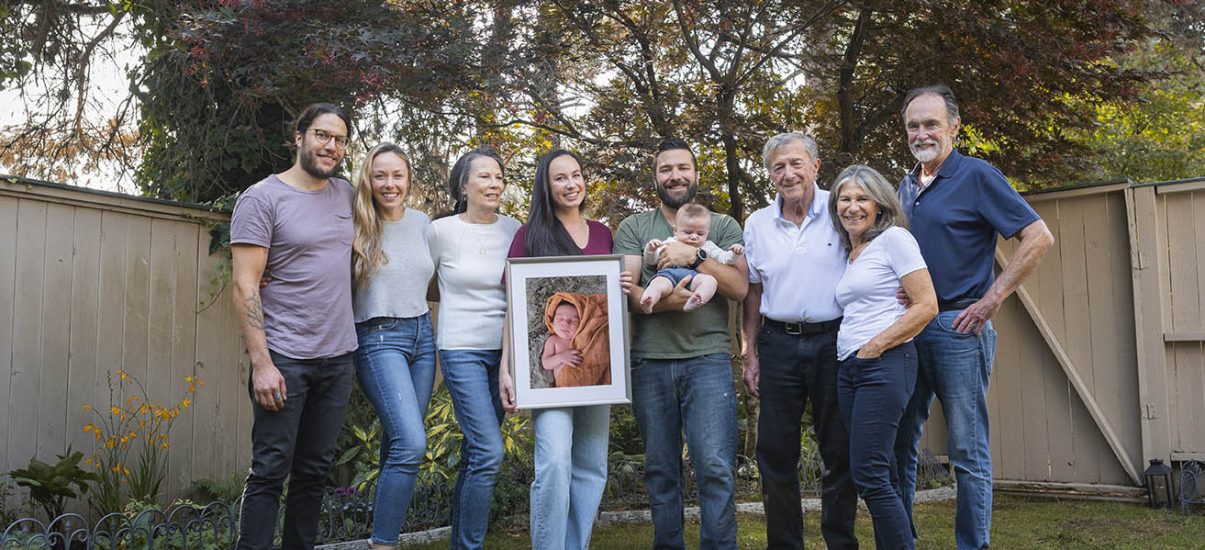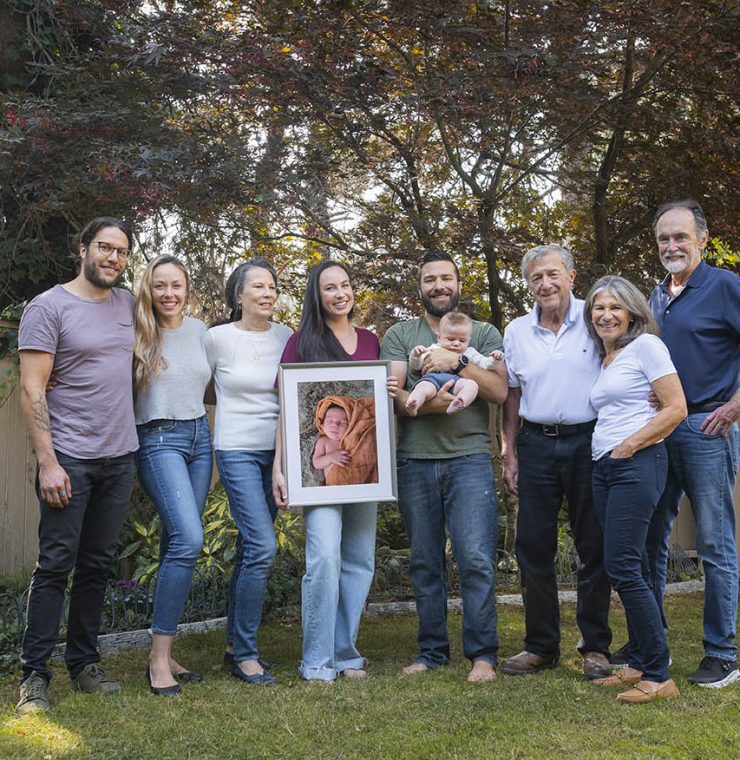 Counselling and bereavement support for the entire family
Caring for a child with a life-threatening illness is one of life's greatest challenges and our goal at Canuck Place is to keep families whole through our family-centred approach. Grieving begins at diagnosis and the complex and ever-changing emotional, spiritual, and psychosocial needs can seem overwhelming to children and the family members who love them. Canuck Place counsellors understand this and in their work, walk alongside families, offering presence and providing them a safe space to navigate their complex journey of grief.
"No one is ever prepared to lose a child or a grandchild. Canuck Place was there to support us and help us understand how to enjoy the time we had left together. That alone helped us grieve in a "positive" way and be thankful for the time we had with our grandchild," says Cristina Angel.
The Angel family is a close-knit unit. The first grandchild in Federico and Cristina's family, Alejo received in-home care through Canuck Place's Enhanced Community Care Program, and even after his passing, the family, including the grandparents, received grief and bereavement support from our incredible counselling team.
Canuck Place counsellors support the mental well-being of help all family members, and help build the capacity of families to handle the long-term pain of loss. In addition, counsellors provide understanding and resources on how to be supportive while a family member is going through the devastating experience of losing a child.
This #BellLetsTalkDay, we sat down with Canuck Place counsellor Deborah Davison and Canuck Place grandparents, Federico and Cristina Angel to learn more about how Canuck Place supports the entire family and how you can support your loved ones going through unimaginable circumstances.
---
"Grief is how we love after loss, and if we love deeply, we grieve deeply," says Canuck Place counsellor, Deborah Davison. "We recognize that each family's journey is unique and they are the experts of their own story and know themselves best."
And while each family's journey is unique, each person in that family has a different perspective, different emotions, and needs that need to be supported.
Federico and Cristina Angel were thrilled to welcome their first grandchild, Alejo. They look back fondly as they remembered the first few days with Alejo and watching their son Federico and daughter-in-law Erin become parents for the first time.
"Watching [Fed] with Alejo filled my heart with love," Cristina remembers. "I was very proud of him for the way he handled a newborn!"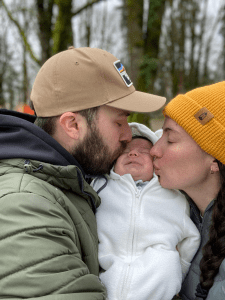 But at just two weeks old, Alejo was diagnosed with a rare cancer presenting as a soft tissue malignant tumour. It was at this time that the entire Angel family was connected with Canuck Place.
"I couldn't believe what I was hearing," says Cristina. "My heart was with how Erin and Fed were feeling."
Grief is complicated and has many layers. While Federico and Cristina were devastated by the news of their first grandchild's diagnosis, they were also searching for ways to support their son and daughter-in-law—and also needing support themselves. This is where Canuck Place's holistic, interdisciplinary, family-centred care model comes into play.
"Canuck Place is committed to walk alongside children and family members in a way that supports their relationships and background," explains Deborah.
"We care for the whole family. The clinical team designs a care plan that includes the physical, psychological, social, and spiritual needs of each child. We offer care that requires participation and partnership with family and encompasses the whole family holistically."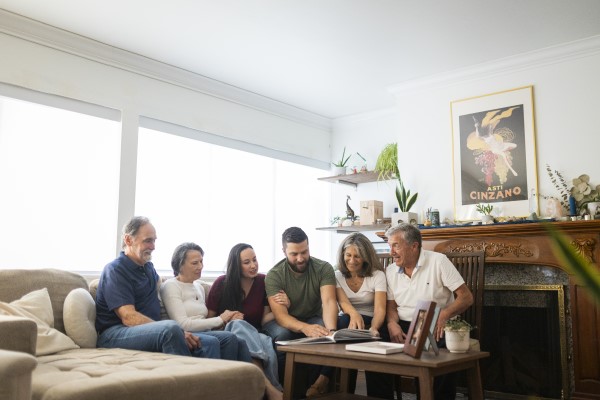 The entire Angel family received counselling support through Canuck Place, including Federico and Cristina. This is something the family continues to cherish, allowing them the opportunity to grieve in a safe and supportive environment.
"There is no bigger pain than to see your child suffer. As a father looking at your son looking at his son dying—it's like a hot iron in your heart," Federico says.
Federico explains that while the pain of losing their grandson did not go away, the expert care, love and support Alejo and their entire family received from Canuck Place nurses and counsellors, lessened the pain.
Canuck Place was doing what we as parents couldn't, they acted, did what was needed to be done, and gave my son, grandson and us all the support we needed.
Canuck Place offered resources to the extended family, helping them connect with support in their local community, and validated the importance of continuing to be available. Canuck Place also recognizes that grandparent grief is unique.
"Grandparents are not only grieving a much-loved grandchild, they are also witnessing their beloved child suffer," Deborah explains." Supporting and helping grandparents process their own losses distinctly from parent grief takes any pressure off either of them in the broader family relational dynamic—making room for everyone while also recognizing and supporting the distinctness and difference in their respective grief experience. Canuck Place has offered grandparent bereavement groups for this very reason."
In addition to this unique support model, Canuck Place counsellors also help family members with tips that they can practice to support their loved ones whose child is on Canuck Place's program.
Canuck Place counsellor Deborah identifies some tips on what to say or do when a loved one is going through a difficult experience, such as the process of losing a child.
Gentle acceptance and presence is really supportive. This creates safety to invite parents to be able to say what is most helpful for them, or what is less helpful.
Recognize that this may change over time, or even moment to moment, so be sensitive to allow for big feelings and the need of a parent or sibling to change their mind. Love is caring. Clear is kind.
Ask what they would like you to know about their child; say their name and remember them.
Support parents to feel welcome to create rituals at larger family gatherings that incorporate the continuing bonds of this child to the clan; ask parents how they would like to acknowledge their child and follow their lead.
Tangible things: food helps; commuting siblings to and from activities; being available for check in's long after others may have moved on; remembering and acknowledging a child's birthday and other special days;
Take care of yourself as a caregiver, so you are offering comfort in to the grievers, and ensuring that the big feelings which may come up for you as a supporter are valid too. Find your own place to process these and do not expect the griever to care for you too.
Don't rush the process … grief takes time. Grace to them, and grace to you.
---
Everyone grieves the loss of a loved one differently, and at Canuck Place, our team works with families to create individualized care plans that identifies and recognizes this.
Federico reflects how Canuck Place counsellor Mary Coleman, gave them the care, love, and advice they needed to ease the pain, but also reminded them to look at the time they had with Alejo with love and gratefulness.
Canuck Place helped each one of us grieve in our own way. Just the care and love with which they approached us was incredible.
To learn more about how Canuck Place supports families when and where they need it most, visit our Family Services page.
If you'd like to support family-focused, heart-centered care, make a donation today.