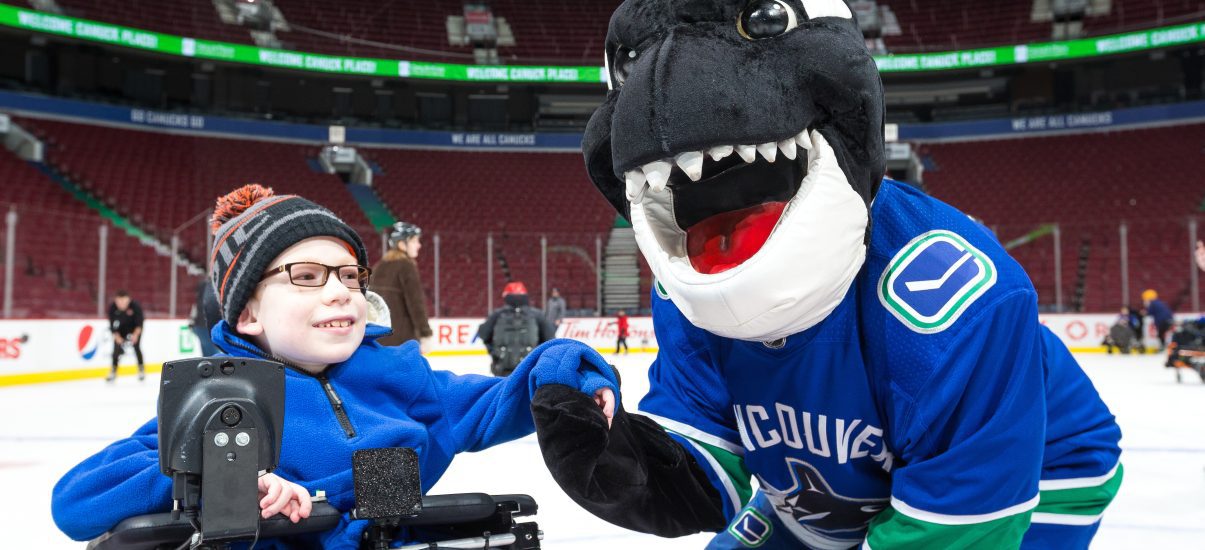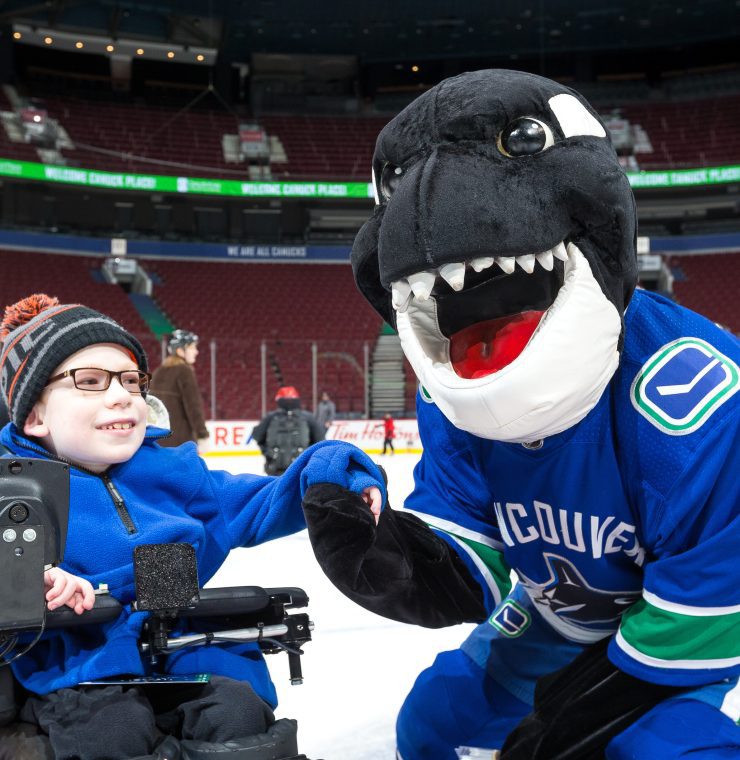 Canucks for Kids Fund Telethon: Rules, Regulations & FAQs
2023 CANUCKS FOR KIDS FUND TELETHON
Below, you'll find more information about the 2023 Canucks for Kids Fund Telethon, including:
2023 Corolla Hybrid LE AWD PRIZE DRAW (the "Contest")
RULES AND REGULATIONS
CONTEST BROUGHT TO YOU BY THE CANUCKS FOR KIDS FUND (CONTEST SPONSOR). NO PURCHASE NECESSARY. CONTEST IS VOID IN WHOLE OR PART WHERE PROHIBITED BY LAW. SEE ELIGIBILITY SECTION BELOW FOR FURTHER DETAILS. PARTICIPATION IN THIS CONTEST CONSTITUTES FULL AND UNCONDITIONAL AGREEMENT AND ACCEPTANCE OF THESE CONTEST RULES.  ALL DOLLAR AMOUNTS ARE IN CANADIAN FUNDS ($CDN) UNLESS OTHERWISE NOTED.
(1)  HOW TO ENTER: The Contest may be entered in one of two (2) ways: online at canucks.com by completing the Telethon donation form and making a donation by midnight (Pacific Time) on March 21, 2023; or for those persons who support the Telethon but are unable to make a donation, by writing a letter to this effect and mailing or delivering it to Canucks For Kids Fund, 89 West Georgia Street, Vancouver, BC, V6B 0N8 by midnight (Pacific Time) on April 30, 2023.
(2)  ELIGIBILITY: The Contest is open to residents of Canada except: (a) residents of Quebec; and (b) directors, officers and employees of Contest Sponsor, Vancouver Canucks Limited Partnership and its affiliates which collectively operate as Canucks Sports & Entertainment (CSE), any member of the Aquilini investment Group of companies (AIG), Toyota Canada Inc. (Toyota) and their respective affiliates, subsidiaries and associated entities), as well as members of the household and/or immediate family of any of the above parties. For the purpose of these Contest Rules, "immediate family" means husband, wife, spouse, mother, father, brother, sister, son and/or daughter, whether by blood, marriage or adoption and whether or not they reside in the same household. No donation is necessary in order to enter.  Contest Sponsor shall have the right at any time to require proof of identity and/or eligibility to participate in the Contest. Failure to provide such proof may result in disqualification.
(3)  PRIZE: There will be one Prize, consisting of a 2023 Corolla Hybrid LE AWD with an approximate value of $ 34,003.20 CAD MSRP plus destination/freight charges and all applicable fees. Prize does not include taxes.
IMPORTANT NOTE: THE APPROXIMATE RETAIL VALUE OF THE PRIZE NOTED ABOVE IS CURRENT AS OF March 21, 2023. UNDER NO CIRCUMSTANCES WHATSOEVER WILL ANY DIFFERENCE BETWEEN THE ACTUAL RETAIL VALUE OF THE PRIZE AS AT THE TIME OF PRIZE FULFILMENT AND THE APPROXIMATE RETAIL VALUE OF THE PRIZE NOTED ABOVE BE AWARDED. FOR THE AVOIDANCE OF ANY DOUBT, THE PRIZE CONSISTS OF THE VEHICLE AND NOT THE ACTUAL VALUE OF THE VEHICLE.
Without limiting the generality of the foregoing, the following general conditions apply to the Prize: (i) Prize must be accepted as awarded and is not transferable, assignable or convertible to cash (except as may be specifically permitted by Toyota in its sole and absolute discretion); (ii) no substitutions except at Toyota's option; (iii) Contest Sponsor and Toyota reserve the right at any time to substitute the Prize or a component thereof for any reason with a prize or prize component(s) of equal or greater value, including, without limitation, but solely at Contest Sponsor and Toyota's sole discretion, a cash award; (iv) colour and other specifics of the Prize will be at the sole and absolute discretion of Toyota and subject to availability; (v) manufacturer's standard warranty applies to the Prize; (vi) upon notification, the confirmed Prize winner will be required to personally take delivery of the Prize from a Toyota dealership within Canada reasonably close to his/her place of residence in Canada as determined by Toyota, in its sole and absolute discretion, and will be required to present adequate personal identification (in a form acceptable to Toyota – including, without limitation, government issued photo identification); (vii) Prize will not be released unless and until the confirmed Prize winner first shows proof (in a form acceptable to Toyota) of having a valid driver's license  in the province/territory in which he/she resides and proof (in a form acceptable to Toyota) of satisfactory insurance; (viii) confirmed Prize winner is solely responsible for all expenses that are not included in the Prize description above, including, but not limited to, registration and license fees, insurance, additional accessories and all other costs associated with: (a) any upgrade or option package(s) that he/she may request (and that may be permitted by Toyota in its sole and absolute discretion); (b) obtaining a valid driver's license, license plates, registration, insurance and/or fuel; and/or (c) taking delivery of the Prize.
(4)  WINNER SELECTION AND PRIZE AWARD:   The potential winner will be selected by random draw at Contest Sponsor's offices at Rogers Arena at 12:00pm (Pacific Time) on Wednesday, June 7, 2023. Limit one entry per person.  Odds of winning the Prize depend on the number of entrants who participate in the Contest. If the entry drawn for the vehicle identifies a minor (a person under 19 years of age), the custodial parent or guardian shall be considered the selected entrant.  To be declared a winner and claim the prize, the selected entrant must:
Be reached by phone or by e-mail by Contest Sponsor representatives within seven (7) days following the random draw;
Correctly answer a time-limited, arithmetical skill-testing question that will be asked by Contest Sponsor representatives over the telephone at a mutually convenient time without help of any nature;
Be eligible according to the Contest rules; and
sign a Declaration, Release and Waiver in the form provided by Contest Sponsor within seven (7) days of its receipt thereof from Contest Sponsor.
If the selected entrant does not meet all of the above conditions, that entry will be disqualified, and Contest Sponsor shall be entitled to select a new entry from among all remaining eligible entries. Contest Sponsor is not responsible, whether as a result of human error or otherwise, for any failure to contact any potential winners.
(5)  GENERAL RULES:
Contest Sponsor reserves the right to change the structure, process, timing, duration, or any other aspect of the Contest at its discretion. Contest Sponsor reserves the right to amend the Contest Rules or terminate the Contest at any time without any liability to any entrant. Contest Sponsor also reserves the right to make all final decisions in relation to the Contest.
As part of an entrant's participation in the Contest, Contest Sponsor may require entrants to participate in any activity relating to the Contest including, without limitation, recordings, interviews, and promotional and publicity activities. All entrants agree that Contest Sponsor and its agents can use, exploit, reproduce and distribute in any media whatsoever, now known or hereafter created, worldwide in perpetuity, the winner's name, likeness, image, and comments, in whole or in part, without any further consent or compensation.
Entrants acknowledge that Contest Sponsor, CSE, AIG, Toyota and their respective directors, officers, shareholders, employees, and/or agents, their affiliated companies, advertising and promotional agencies and/or representatives, and any person or entity connected with the production or administration of the Contest (collectively, the "Released Parties") are not responsible for and are in no way liable for any injuries, loss or damages arising in any way from the Contest, including without limitation from the acceptance and use of the vehicle awarded as the prize.
Contest Sponsor reserves the right to disqualify any Entrant from the Contest in its discretion, should the entrant at any stage supply untruthful, inaccurate, or misleading details and/or information, or should the Entrant be ineligible at any stage of the Contest pursuant to the Contest Rules.
None of the Released Parties shall assume any liability resulting from losses, delays, mistaken addresses, typographical errors, errors on printed or electronic material, technical, computer or telephone malfunctions, loss or theft of computer data, damage to software or computer equipment, fraudulent calls or any other mistake.
None of the Released Parties shall assume any liability whatsoever for any situation in which their inability to act results from an event or situation unforeseeable or beyond their reasonable control, including but not limited to force majeure, a strike, lockout or any other labour dispute at their location or the locations of the businesses whose services are used to hold this Contest.
All personal information, such as name, e-mail address and age is collected solely for the purposes of administering this Contest, and shall not be used for any other purpose, other than for promotional purposes as described in these Contest Rules, without prior consent. Contest Sponsor's Privacy Policy may be found at www.canucks.com.
Contest shall be governed in accordance with the laws of the Province of British Columbia and the federal laws of Canada. By entering the Contest, Entrants agree to attorn to the exclusive jurisdiction of the courts of British Columbia, Canada for determination of any and all matters related to the Contest.
FAQs
How do I make a donation?
The 2023 Telethon has gone online this year! There is no call centre available for 2023. Fans across BC can donate here.
Where do funds go?
The Canucks for Kids Fund Telethon presented by TD supports Canuck Place Children's Hospice and other BC charities. Funding from the Canucks for Kids Fund is key to Canuck Place delivery of care. We are so grateful for the annual support.
Can I get a photo of Kevin Bieksa or Hockey Hall of Fame Inductees?
Donors who give $100+ through the website or by mail will receive a one of a kind 8"x10" photograph from Kevin Bieksa's retirement.
Donors who give $150+ will receive both a Kevin Bieksa retirement night photo and a one-of-a-kind 8"x10" photo of 2023 Hockey HOF Inductees Daniel Sedin, Henrik Sedin, and Roberto Luongo. Photos will be mailed to eligible donors with their tax receipt.
Can I enter to win the Toyota Corolla?
Please see contest rules for information on how to enter to win a 2023 Toyota Corolla Cross LE AWD – approx. MSRP $34,003.20 CAD (plus destination/freight charges and all applicable fees & taxes)
I'm having trouble making my donation
If you need further assistance please call 604.730.3316. We appreciate your patience as call volume may be high at our donor services desk. Please leave a message in the voicemail inbox and we will return your call