Care is for the whole family at Canuck Place
Canuck Place helped each one of us grieve in our own way. Just the care and love with which they approached our family was incredible.
Grandparents Federico and Cristina Angel were devastated when they learned their first grandchild, Alejo,  was diagnosed with a rare terminal cancer. 
Alejo received in-home care through Canuck Place's Enhanced Community Care Program, and after his passing, the family, including the grandparents, received grief and bereavement support from the incredible  counselling team at Canuck Place.
 Counsellors at Canuck Place support the mental well-being of all family members, and help build the capacity of families to handle the long-term pain of loss.
"We care for the whole family," explains Canuck Place counsellor Deborah Davison. "We offer care that requires participation and partnership with family and encompasses the whole family holistically."
The entire Angel family received counselling support through Canuck Place, including Federico and Cristina—and Canuck Place recognizes that grandparent grief is unique.  
"Grandparents are not only grieving a much-loved grandchild, they are also witnessing their beloved child suffer," Deborah explains. "Supporting and helping grandparents process their own losses distinctly from parent grief takes any pressure off either of them in the broader family relational dynamic."
Federico explains that while the pain of losing their grandson did not go away, the expert care, love, and support Alejo and their entire family received from Canuck Place nurses and counsellors lessened the pain.
"Canuck Place was doing what we as parents couldn't," Christina says. "They acted, did what was needed, and gave my son, grandson, and us, all the support we needed."
Canuck Place is where the cookie jar is always full
Milk and Cookies for Canuck Place, presented by BC Dairy, is ensuring  comfort and nourishment for children and families who stay in the hospices. 
Across BC, schools have been holding bake sales, bakeries have been donating partial proceeds from selling tasty treats, and supporters have been donating to fill the Canuck Place cookie jar and support exceptional care at Canuck Place.
Thank you for keeping the Canuck Place cookie jar full!
The intersection of oncology and pediatric palliative care
Last year, pediatric cancer accounted for 19% of diagnostic categories for children on Canuck Place's program. 
Canuck Place's interdisciplinary care goes beyond pain and symptom management and intersects with comfort and compassion, sometimes referred to as intensive comfort care. 
"We often use the words aggressive chemotherapy or intensive treatment to describe therapies that will be hard on the body but intended to cure a cancer diagnosis," explains Dr. Natasha Datoo, Canuck Place Physician. 
For physicians at Canuck Place optimizing comfort is considered intensive medicine. "Most people don't know how intensive palliative care treatments can be," Dr. Natasha says. 
The Canuck Place clinical team is highly specialized to provide  complex medical care. This interdisciplinary approach focuses on supporting the child to live the end of their life as fully as the beginning.
Amber Financial starts the Year of the Rabbit by supporting Canuck Place families
Over Lunar New Year, Amber Financial presented their Annual Lunar New Year Concert, held for the very first time at the Chan Centre. This year, the event raised a record $46,800.
Thanks to the Coromandel Foundation, partial funds from this event were matched, and doubled the impact of care at Canuck Place.
Thank you to Amber Financial and their partners for supporting Canuck Place families as you celebrate the Year of the Rabbit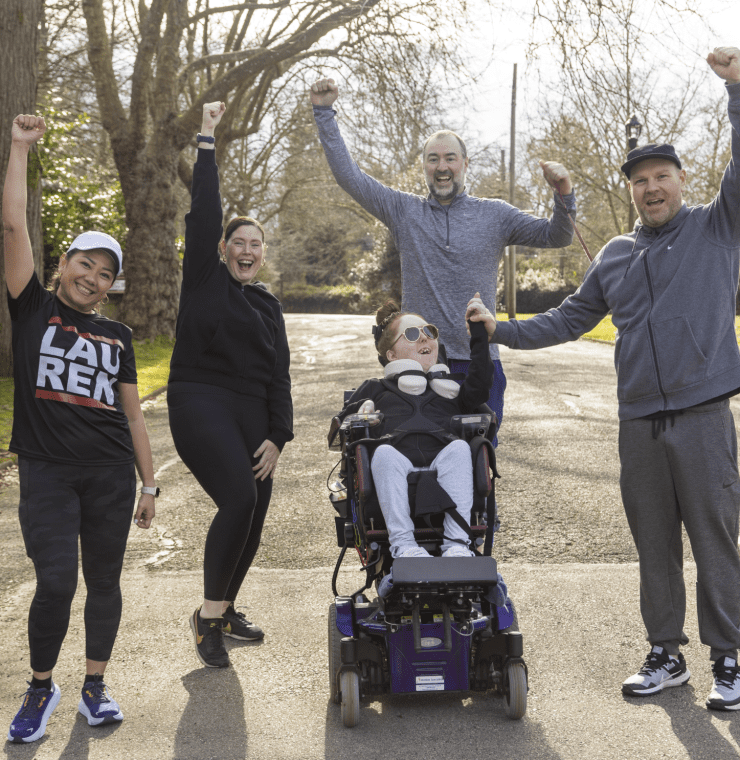 13-year-old Canuck Place youth takes on BMO Vancouver Marathon
The BMO Vancouver Marathon is on May 7, and Canuck Place child Charlie-Anne Cox is once again rolling 21km in the race with team "Charlie's Angels Joy Runners" to raise funds for Canuck Place alongside her mom, Cherie!
Charlie-Anne is 13 years old and has Spinal Muscular Atrophy (SMA) type 1. SMA is a genetic condition that causes muscle weakness and atrophy, which affects breathing and swallowing. Charlie-Anne has been on the Canuck Place program since she was 9 months old.
Canuck Place mom, Aubrey Delima, has also joined their team and is challenging herself to run the full marathon for her daughters Lauren and Jenna. Lauren passed away on the Canuck Place program in 2010.
Celebrating recreation therapy month!
February is recreation therapy month and Canuck Place celebrates the integral role of the recreation therapy team in pediatric palliative care. Children and families experience meaningful adventures and moments through the recreation therapy program. Annually, Canuck Place has a small number of children who "graduate" from our program at 19. This is due to the progress of their illness, or changes in how their condition or disease trajectory has been impacted by research discoveries or medical care.
In addition to celebrating their graduation with Canuck Place team members who provided care for that family, our recreation therapy team plans a special outing that is directed by the teen graduating. These special outings take on many forms and are built around their request (the possibilities and imagination are endless)! One of our most recent graduates, Griffin Martel chose to see Vancouver from the sky in a seaplane!
A big welcome to our new music therapist!
March is Music Therapy Month, and we welcomed a new music therapist, Michaela Wallis! 
"I feel so blessed to work as a music therapist. On any given day, I'm able to create a session on the spot, tailored to what each child needs at that particular moment. I love that each child and family is unique, which means each day and session is totally new and exciting!"
Helping kids be kids!
Every summer, the Canuck Place recreation therapy team organizes fun and engaging adaptive experiences for kids of all abilities, in various locations across the province. Canuck Place kids and families participated in activities like adaptive kayaking and parasailing, and visiting a honey bee farm. The Canuck Place team is full of gratitude for the Central Okanagan Foundation, who funded the 2022 Summer in the City Program in Kelowna. Thank you for helping kids and families make lasting memories!
Canuck Place 50/50 is back soon!
Since launching in Fall 2020, the Canuck Place 50/50 has raised over $2,500,000! Thank you to all the purchasers. One half of this goes to our lucky winners, and the other supports exceptional care for over 830 children and families in their homes and in our hospices in Vancouver and Abbotsford. Our total jackpot for the Winter 50/50 was $398,240 and half went to our lucky winner, L. Hill of Mission, BC! 
The next 50/50 launches in late April. Keep an eye out for your chance to win half the anticipated jackpot of $500,000!