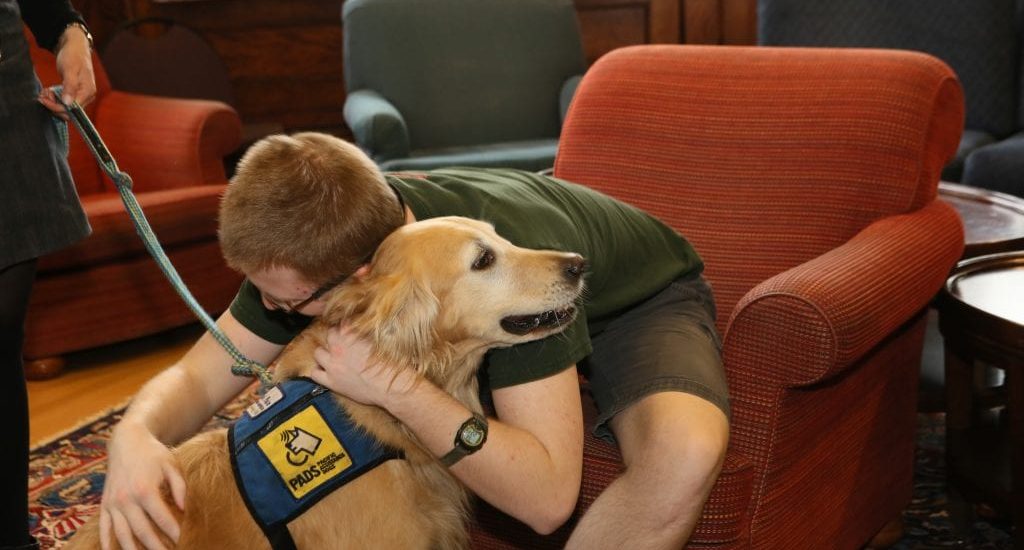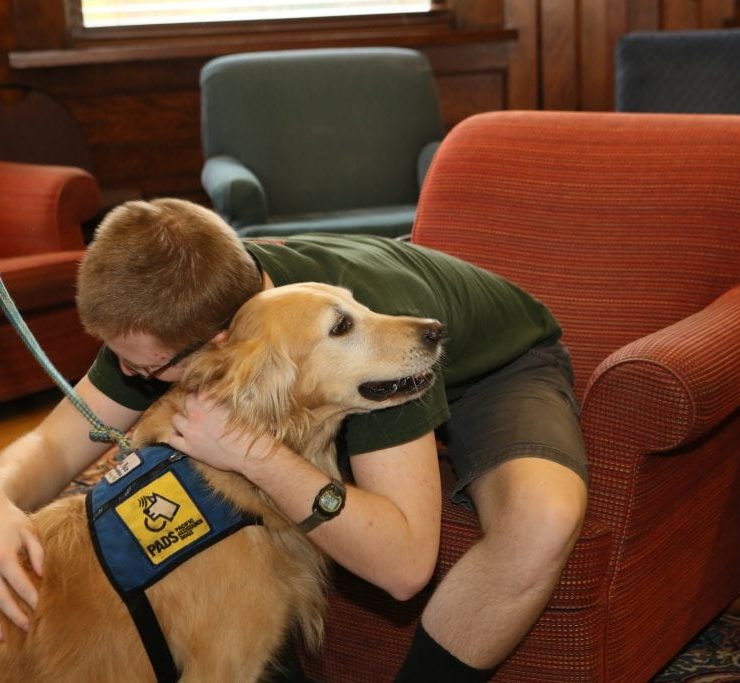 Remembering Poppy
It is with great sadness we share that our beloved service dog, Poppy, has passed away. Over the years, Poppy has filled  Canuck Place with love and comfort, always ready to brighten someone's day and provide support where needed.
Poppy, a golden retriever, was born on July 27th, 2007 and was trained by the Pacific Assistance Dogs (PADS) to be a therapeutic companion to the children and families of Canuck Place. An integral member of the clinical team, Poppy had an incredible ability to sense who needed her support the most and always went to the most distressed person. Her presence helped to provide comfort to kids and families in times of stress and grief and break down barriers with her gentle nature and great big smile. Even on the most difficult days, her companionship helped to heal, making a lasting impression.
Often seen strolling through the gardens or calmly sitting in on a group counselling session, Poppy made an impact on everyone who met her. She loved to celebrate different holidays and was always up for adventures with Canuck Place kids, whether it was Adventure Race, kayaking or reading!
Poppy will be dearly missed by everyone at Canuck Place. Thank you, Poppy, for years of wonderful memories and for truly making Canuck Place feel like home.
Favourites:
Movie: Lassie
Food: Kibble
Book: Clifford the Big Red Dog
Team: Vancouver Canucks
Time of Day: Naptime
Outing: Bird Sanctuary
Room: Sun Room
Exercise: Walks in the Canuck Place garden
People: Canuck Place Kids
Media Highlights: Vancouver Sun, CKNW Simi Sara Show
Sharing memories of Poppy
"Poppy brought so much joy to our son during his stay in hospital and while at Canuck Place. Poppy was the only reason Tiernan would get out of bed. Poppy inspired me to get a Golden Retriever of our own to help with my own healing after Tiernan passed. I hope to have her certified with PADS to bring joy to other children and adults when they need it most." 
"Poppy thank you for sharing your love with our family. We thank you for comforting baby cooper and his family along with everyone else you've helped over your years at Canuck Place. RIP sweetie now it's your time to rest."
"When you have a child and/or sibling dying seeing doctors and the hospice team can be difficult, a reminder of the severe and inevitable reality. But when Poppy came as the lead somehow the situation was diffused, she brought a smile in a difficult time and provided a loving distraction to my boys as we met with doctors and the medical team. 
I am sure she is running free and being greeted by hundreds of children who she has helped and loved over the years! Thank you, Poppy and Dr. Hal, for allowing such a loving and caring animal to touch so many lives. Her spirit will live on in our hearts!"
"What a sad loss. She was a special member of the team. May we all live with the same enthusiasm for the good things in life (rooting through the garbage when you're off the clock!) and the same compassion and gentleness she did."
"Oh Poppy, you beautiful soul thank you for giving the most amazing love and healing to all of us who had the pleasure of meeting you. We have such fond memories of you coming to visit our sweet Dominic in ICU and at Canuck Place, I remember sitting outside the family suite one day and Poppy just came to snuggle me while I was reading. We will miss you forever. I hope my boy and so many others are playing with you now."
"Poppy has been such a gift to so many. Her love and generosity of spirit will forever be imprinted on the hearts of everyone who met her. Rest In Peace sweet Poppy"
"If we could all be as kind and giving as Poppy what a wonderful world this would be. During my daughter's time at BCCH and #CanuckPlace both of us came to look forward to Poppy's visits. When Chloe Kurney wasn't well enough to leave her room, I was the one sent in search of Poppy, around the wards or up and down the stairs at Canuck Place.  I would like to think that those children that Poppy touched before their passing were aware of her illness. When it came her time, they were there for her. To greet her again with open arms. RIP Poppy. I'm glad to have met you."
"As PADS puppy sitters my family had the pleasure of having Poppy in our home for a period of time when she was in training. She was a beautiful gentle soul. We are heart broken to hear of her passing. She brought happiness to a lot of people. Good girl Poppy sleep tight."
"I've known Poppy and her brother from the first day they arrived at PADS. She was always a sweet soul. One of my favourite accomplishments at PADS was starting the ball rolling to ensure she found a home at Canucks Place…I knew the difference she could make. Luna your puppy in training partner left me this summer too so I hope the two of you can meet up and enjoy a puppy play date again!! You did everyone proud sweet girl!"