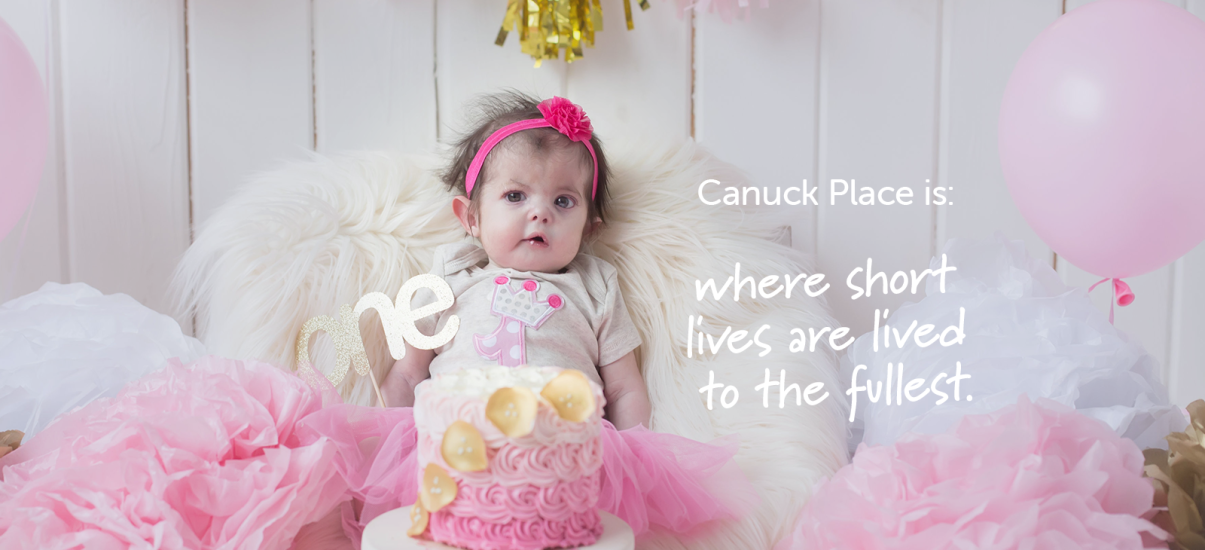 Canuck Place is: Where Short Lives are Lived to the Fullest
Children and hospice are two words that shouldn't exist together. But they do. For 25 years, Canuck Place Children's Hospice has provided exceptional complex medical care, while helping children and families embrace living fully with the time they have left together.
A full life has a million moments, and at Canuck Place, they believe the shortest lives should be the fullest of them all. What is a full life? There are many beautiful possibilities. It's a child's laughter, the light in their eyes, a warm hug, a tiny hand waving; it is learning, playing, growing, connecting and finding comfort.
Canuck Place celebrates the significance of the tiniest moments for children with the bravest hearts.
Through expert medical care, Canuck Place nurses and doctors provide a healing environment to ease suffering and manage complex symptoms to help children live the best life possible.
"Our goal is to optimize living for infants, children and youth aged 0 to 19 and their families," says Dr. Hal Siden, Canuck Place Medical Director. "We know a full life includes making the most of the time that is left. Together, with donor support, we empower children and families to make important choices: a choice for care focused on symptoms and quality of life; a choice for the place for end-of-life; and a choice for emotional and bereavement support."
Canuck Place is: The only pediatric palliative care provider in BC
Twenty-five years ago, Canuck Place Children's Hospice opened as North America's first free-standing children's hospice. Today, Canuck Place has two hospices in Vancouver and Abbotsford serving over 818 children and families from BC & Yukon. Canuck Place provides medical respite, complex care in-home, pain and symptom management, music and recreation therapy, art, education, end-of-life care, and grief, loss and bereavement counselling. All at no cost to families.
For Canuck Place children and families, a full life also includes providing a place where kids can still be kids and continue to explore the world with a sense of wonder. Canuck Place recreation therapists help children celebrate the everyday experience of being a child, providing opportunities for play, connection and fun, with their siblings.
"Canuck Place provided so many unique, once-in-a-lifetime opportunities for me and my brother Jaxson, who has SMA, a genetic neuromuscular disorder," says Canuck Place sibling, Maddison. "As a sibling, my needs were always taken into account. Canuck Place allowed me to just be a regular kid and encouraged my brother to be the same. My favourite memories include Laura and the recreation therapy team, and the experiences they created for us, such as outings to the Aquarium, movie nights, hockey games, and even a trip to Disneyland."
Canuck Place is: Where kids get to be kids
The illness and death of a child is a life-altering experience and impacts the whole family.
Grief doesn't have a timetable, and is a highly individual journey. Canuck Place counsellors understand this and help families cope, and find the courage to face the unknown, so no moment is missed.
The program includes individual and family counselling, music and play therapy, bereavement and spiritual care counselling, and social work, plus sibling, parent and grandparent support groups.
"I have often said that one of the hardest parts of having a terminal child is having the knowledge of that diagnosis and then continue to live day after day, trying not to let it suffocate you," says Canuck Place mom Kerena. "I don't know what we would do without Canuck Place. "They have helped us make some of the most amazing memories over the years as a family, all while helping our 10-year-old son Heston maintain the best quality of life he could possibly have."
Canuck Place is: Where memories are made
When children with life-threatening illnesses and their families come to Canuck Place, the end of the story is already known. But the journey to get there has yet to be written. With donor support, Canuck Place works to make the rest of that story the very best it can be.
Through complex care, play and keeping families whole, they ensure that lasting memories are filled with joy, and no moment is missed.
Give short lives the gift of great days. Don't wait. Donate. canuckplace.org